In this blogpost, our Frontend Developer Nicolaj Christiansen takes us through the latest feature updates.
I'm really excited to present a lot of new features we have recently implemented into RelationCity. We know that you need technology that fits seamlessly into your business to make your tasks simpler and more convenient. That's why we always put a lot of effort into creating features that solve real pain points from our users. Our team always works hard to optimize the platform so that it keeps providing you with the best tools and user experience possible. So regardless of which industry your business is in, I hope these new additions will make your SMS marketing experience even more seamless and intuitive. Let's dive in!
Improved Quick Send
To link in with what I wrote above about solving users' pain points, we constantly take in feedback from our users and use it to optimize our features. Not long ago, we discovered a user who used our Quick Send feature for all their campaigns rather than using the more specialized Campaigns tool. The problem with this was that it then took a super long time for the messages to send, as the Quick Send feature wasn't built for speed. We have now optimized it to handle bigger bulks of messages at a time, so messages sent with Quick Send will send much faster. However, Quick Send is still not meant for huge campaigns, but we have still optimized it so it can be used for more than before, especially by those who prefer Quick Send the most.
Added Blacklist feature
It's probably not a surprise to anyone that there is a lot of spam in the SMS-world. We see this firsthand, so we want to do what we can to prevent it. That's why we have added a blacklist-feature where you can block phone numbers (and down the line we'll be adding email addresses and other communication sources, too) for both inbound and outbound messages to prevent or stop spam sources. If the spam is coming from a contact registered on your list of contacts, the contact will also be deleted. So if e.g. someone has signed up for your services but is misusing the channel, adding them to the blacklist will solve the problem. This feature has been high on our to do list and it's great that it is now out and helping battling spam.
Manage time zones in campaigns and inboxes
You can now set your account to a time zone that suits your customer segment so that SMS messages you send out won't be delivered in the middle of the night or at another inconvenient time to your customers if they are in another time zone from you. Basically, we have ensured that you don't have to do the calculations yourself – we'll do it for you!
Upload contacts with mapping of tags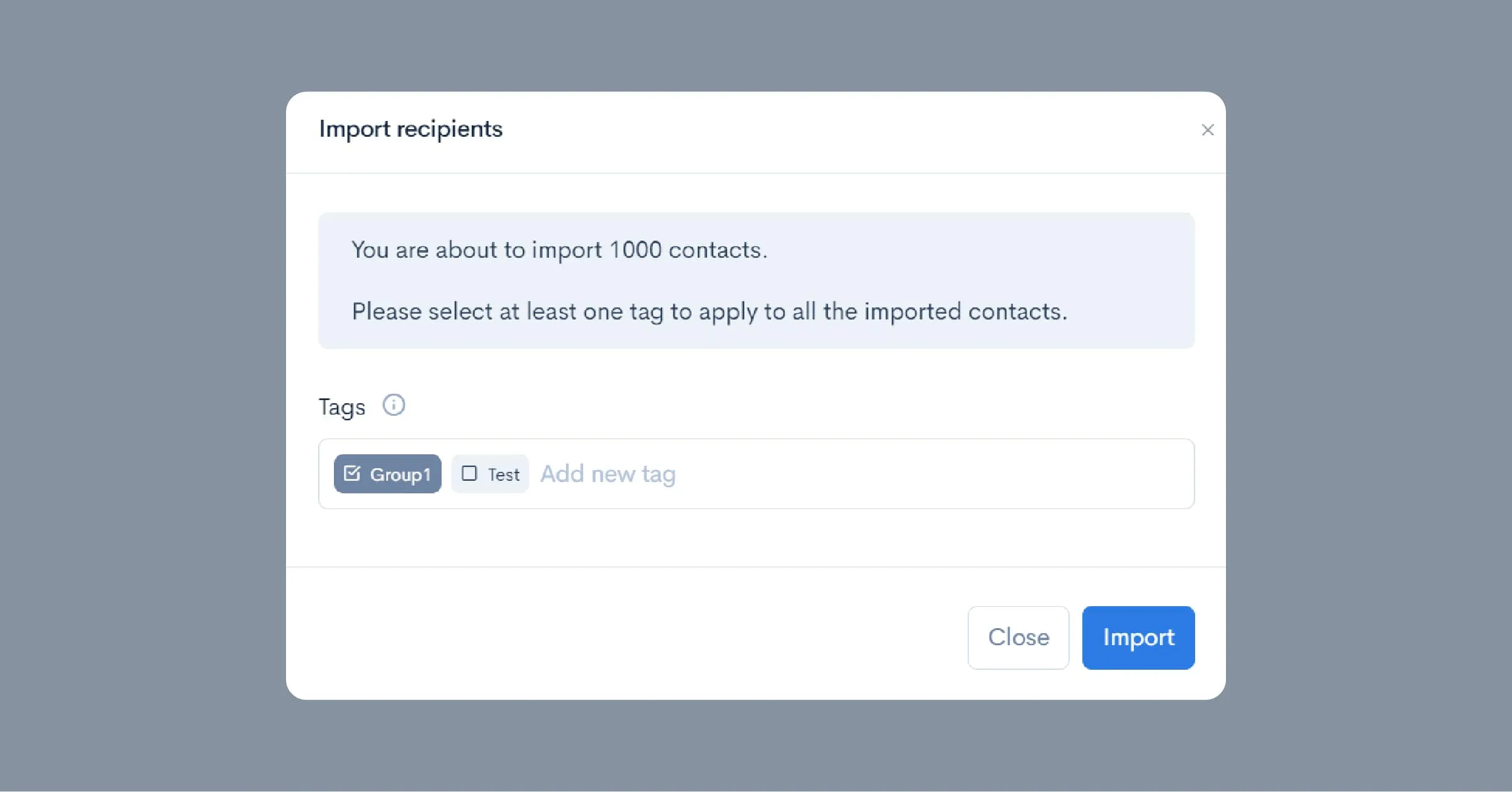 It's nothing new that you can upload contacts, but we have made our system even smarter. Beforehand, every data set was created as a new contact. Now, if the contact exists already, it will just be updated with the new data instead of creating a new one (this is primarily based on whether the phone number exists in the system already).
Also, earlier you could pick a tag to apply to all contacts you upload, but it is now easier to choose which contacts to give which tags – it's all defined in the uploading process. So if you want to segment lots of customers at a time, then this is a great way to do it. Say for example that you need to upload several kinds of subscription types at once, then you can assign them different tags as you upload!
Threads with a full overview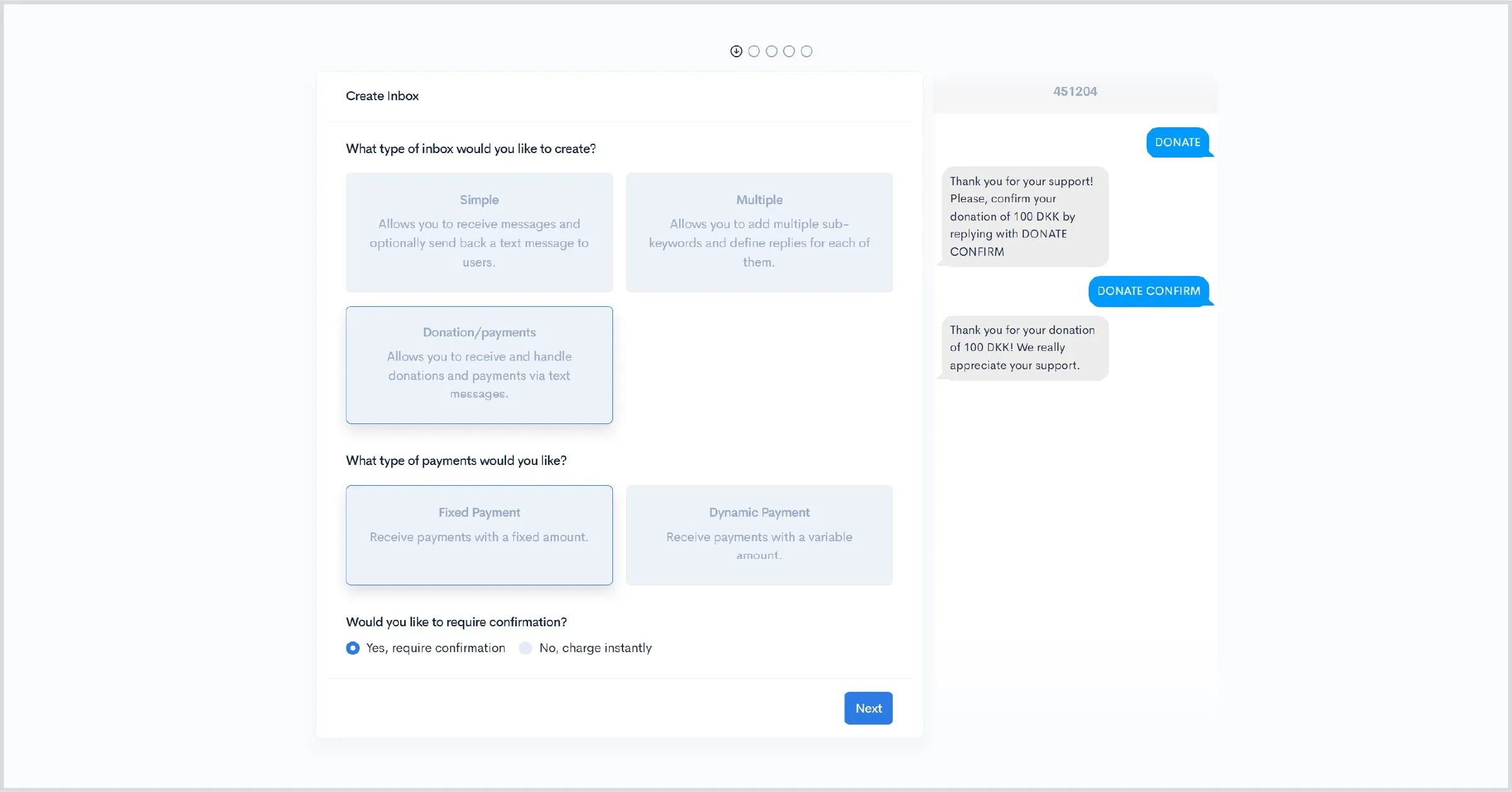 Now this is a pretty big feature. Via 'threads', it is possible to have conversations with your target groups via the inbox. These two-way conversations contain the entire history of the interactions with the customers – when they signed up, what they have texted, etc. You can also see in the thread whether they have donated (if you have a charity). And then of course you can also see the automatic messages that have been sent throughout the interaction with the customer.
Account DPA and automatic GDPR-deletion
We want all things legal and security to be in place which is why you now have to sign a DPA (Data Processing Agreement) when you create an account with us. You can choose not to sign it, but then your account will only be available at a test-stage. This helps ensure that all data is handled legally and correctly. In the same spirit, our GDPR-module ensures that you can define how long time can pass before data is automatically deleted. This means you can completely define yourself when the information on contacts or other personal data is deleted from the database. You can also set up that your contacts receive a notification about needing to re-confirm that they're happy to stay signed up, giving them the choice to decide whether you can keep their data or not. We've also added more detailed choices on how you define 'inactivity', so you can set it to define either how long has passed since the contact last was used or how long it's been since the contact was last updated. This gives you great flexibility in relation to your own company's GDPR-policies.
Other upgrades
There are many more recent upgrades I would love to tell more about, but to give a short recap of some highlights:
We have expanded the dashboard with even more statistics which gives you a full overview of how your campaigns are performing, how many sign-ups you have etc.
It is now possible to connect several accounts as well as changing between the accounts. We have even made a new Account Manager for OCiD!
It is also easier and faster than ever before to make new campaigns from campaign templates, or even from campaigns you have already drafted or previously sent out!
We have also improved the export of contacts, which means you can now export your contacts portfolio either in its entirety or based on customized tags.
So that's it from me for now! I hope this breakdown illustrates how hard we are working on making RelationCity the best possible omnichannel marketing and communication platform for you and your business. We are already working on more updates, so stay tuned to hear even more exciting news from us!